Reser Stadium Seating Chart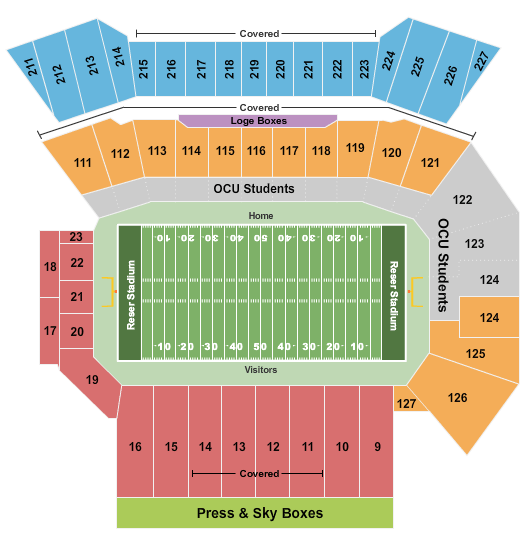 NOTE: Seating layouts can change depending on the type of event. The individual seating chart for the event can be seen when selecting your tickets.
Sidelines
The Oregon State sideline is in front of 115, 116, and 117. Where else, The visiting team sideline is in front of 12 and 13.
Toyota Club
Toyota Club seat ticket holders will be treated to extra wide, cushioned seating with generous legroom, cupholders, and overhead coverage. Fans here will also have access to private entrances, private elevators and escalators, and a unique game room featuring pool tables, foosball, shuffleboard, air hockey, pop-a-shot, and numerous video games.
Founders Loge
Founders Loge Boxes accommodate 4 fans in each box, treating them to complimentary food service, indoor lounge with bar, waiting staff with drink service, and covered moveable seating with ample leg room. Each Loge Box also features a personal television for viewing highlights and replays during the game.
Chairback Seating
Chairback seatings are segregated and they are located in different sections. However, all premium seatings; seats in Loge and sections 211-227 have chairback.
Otherwise, chairback seats can be found in the upper portion of sections 111-121. More chairbacks can also be found in the last 8 rows of sections 11 and 14.
Visitor Seating
Visiting fans have seats in section 126 in the South end zone.
Student Seating
Students have all of sections 122-124 reserved on game days. Additionally, the front of sections 111-121 are reserved for students on game days.
Best Seats
Other than the Loge seats, fans should try to score a seat in sections 217-220 for a great view of the field. These seats are near midfield and have covered chairback seatings.
Grab your tickets today and choose your desired seats. Visit the Reser Stadium schedule to select your event.
To view our ticket & refund policy please check the ticket information page.